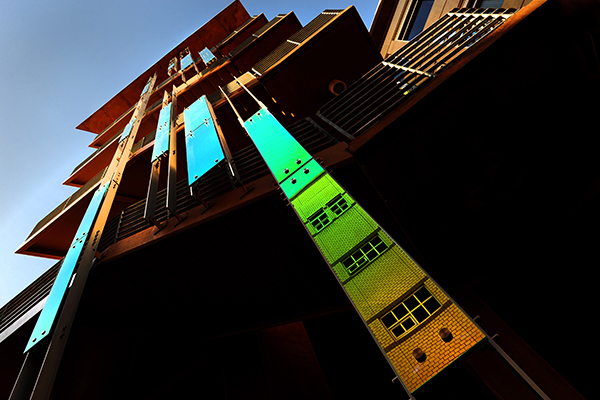 Welcome to the Center for Global Peace and Conflict Studies (CGPACS) at the University of California, Irvine.
CGPACS was founded in 1983 by a diverse group of faculty who came together out of concern about the nuclear weapons stand-off between the United States and the former Soviet Union. Although the Soviet Union no longer exists and the Cold War of the 1980s is a thing of the past, the core of the vision of the founders of CGPACS-- the imperative that as citizens and as scholars we pursue the goal of global peace and ward off the dangers of global conflict—continues to animate our work today.
Throughout our more than 30 years of work, we have fostered diverse and outstanding contributions from the UCI community as scholars, students, and citizens, to the promotion of global peace and to innovative and rigorous analysis of the factors shaping global conflict.
Message from the Director of Center for Global Peace and Conflict Studies (CGPACS)
September 16, 2016
Dear Affiliates of the Center for Global Peace and Conflict Studies,
It is a great honor to be appointed Director of CGPACS, an organization that has a long history and significant accomplishments for our relatively young campus.
On behalf of all of us, I would first like to thank Julia Elyachar for reviving CGPACS after becoming its Director in 2013, at a time when its funding and existence were in danger. Thanks are also due to Eleana Kim for ably substituting for Julia last year. And, best wishes to Julia with her continuation of her career and life at Princeton.
My main objectives as Director are to promote, first, research on peace and conflict and, second, interdisciplinary interactions on peace and conflict. Most of us belong exclusively to one department centered on a particular discipline, each having its own accepted set of approaches and norms, which can hinder a broader understanding of why peace and conflict occur. Facilitating interdisciplinary interactions can fill the big gaps between disciplines and is a key reason for the existence of CGPACS.
Promoting research and academic interactions takes resources. On that front I have both good and bad news to report. The bad news is that we can no longer expect to receive any funds from the Office of Research. The decision was made by the previous Vice Chancellor for Research for all Centers like ours and, although there is a chance the decision might be reversed, we should be planning under the assumption that no funds are forthcoming from that source. The good news is that the Dean of Social Sciences will make up part of this loss.
Furthermore, the Dean of Social Sciences has kindly agreed to provide us with a half-time administrator of the Center who will be located in the CGPACS offices on the 7th floor of the Social Science Tower. This physical presence along with the planned usage of our old conference room (SST 777) will, I hope, sharpen our identity and help maintain our visibility. Until the new administrator is hired Sylvia Lotito along with Marilu Daum will continue capably providing administrative support to the Center. Simone Popperl will also be assisting with Center activities during the Fall quarter.
To facilitate our research endeavor and interdisciplinary interactions, there are several concrete steps that I would like to undertake:
Have a regular Colloquium in which internal and external speakers will present their research. For that purpose, SST 777 has been reserved for Thursdays, 12:30-1:50, for the Fall quarter. We can begin with internal speakers first so that we acquaint (or re-acquaint) ourselves with one another's research on peace and conflict. Scott Bollens and Laura Mitchell have kindly agreed to present in the Colloquium next month (Scott, coming back from a sabbatical year, is presenting twice). Please let me know if you would like to present or if you have any interesting external speakers to propose.

Establish an informal lunch seminar in which graduate students and faculty present new ideas and work-in-progress. SST 777 has also been reserved for that purpose for Tuesdays, 12:30-1:30. (You can expect to have food provided for both prior to the informal lunch and to the Colloquium.) If you would like to present, please contact Simone Popperl at

spopperl@uci.edu

.

Organize events such as half-day symposia, all-day workshops, or multiple-day conferences. The criteria are two: (i) they have to be on peace and conflict and (ii) they need to involve speakers from multiple disciplines. Ideas for such events are welcome. Obviously, our funding would not allow for many such events and we have to be both careful about the cost and have an eye for outside possible sources of financing.

Encourage you to submit papers to our working paper series as a way of promoting our research and developing a web presence. The new administrator will, I hope, allow us to regularly maintain and expand our website, and find efficient ways of promoting our working paper series.
Whether any of these steps prove to be successful will largely depend on how much they help and promote the research of enough of us, of our graduate students and faculty affiliates. Let us try it out and hope it works. Along the way we might even help the world at large by finding out why conflicts occur and how peace can come about!
For the community we will of course continue with the Margolis lecture Beyond that regular event, at the moment I don't have concrete ideas about creating ties and interacting with the community; any suggestions would be most welcome.
If you know of faculty and graduate students who have research interests in peace and conflict and are not affiliated with CGPACS, please let me know. If, on the other hand, you no longer desire to be an affiliate of the Center, please contact Lina Celia Moncayo I lina.moncayo@uci.edu.
The Executive Board of the Center has one vacancy in the School of Social Sciences and two vacancies for other schools. Please send any nominations that you might have to me by the end of September.
Last, and not least, we will have a beginning-of-the-year reception and open house in SST 777, 720, and other CGPACS offices on Tuesday, October 4, 2016, 12:20 pm -1:30 pm. Please plan to attend.
With best wishes,
Stergios Skaperdas
Professor of Economics and Clifford S. Heinz Chair on the Economics of Peace
Director, Center for Global Peace and Conflict Studies
University of California, Irvine
http://www.socsci.uci.edu/~sskaperd/
UPCOMING EVENT
DOCUMENTING WAR - DIGITAL WAR SYMPOSIUM
Friday, March 17, 2017 - 9:00am–1:00pm - Humanities Gateway 1030


RECENT CONFERENCE
GRADUATE STUDENT CONFERENCE - SCHEDULE
Thursday, March 2, 2017 - SST 777

UPCOMING COLLOQUIA
TBA
RECENT COLLOQUIA
(Click titles to see abstracts)
Thursday, October 13, 2016, 12:30 – 1:30 pm - SST 777
"Jerusalem: Urban Spatial Changes During Political Uncertainty 1994-2016"
Scott Bollens, Professor and Warmington Chair - UCI Dept. of Planning, Policy, and Design
Thursday, October 20, 2016, 12:30 – 1:30 pm - SST 777
"Across the Lines: Science in Times of War and Peace"
Laura Mitchell, Associate professor, UCI Dept. of History
Thursday, October 27, 2016, 12:30 – 1:30 pm - SST 777
"Urban Interventions in a Transitioning Society: The Case of 'Post-Peace' Belfast, Northern Ireland"
Scott Bollens, Professor and Warmington Chair - UCI Dept. of Planning, Policy, and Design
Thursday, November 10, 2016, 12:30 – 1:30 pm - SST 777
"Conflict and Trade: Political Instability and the rise of the East India Company"
Dan Bogart, Associate Professor - UCI Dept. of Economics
Thursday, November 17, 2016, 12:30 – 1:30 pm - SST 777
"Sex on the Fob" (Fob – Forward Operating Base)"
Carol Burke, Assistant Professor - UCI Department of English
Thursday, December 1, 2016, 12:30 – 1:30 pm - SST 777
"Lessons in Failure: Institutional Memory in International Organization Crisis Management"
Heidi Hardt, Assistant Professor - UCI Dept. of Political Science
Thursday, January 26, 2017, 12:30 – 1:30 pm - SST 777
"Violence and power and why is it important to differentiate them"
Vlasta Jalusic, Professor, Peace Institute - University of Primorska, Sloveniae
Thursday, February 23, 2017, 12:30 – 1:30 pm - SST 777
"A Revolution That Was Not: The Tiananmen Square Movement Revisited"
Yang Su, Associate Professor - UCI Department of Sociology
Thursday, March 9, 2017, 12:30 – 1:45 pm - SST 777
"On Government-Industry Nexus and Indigenous Armed Resistance"
Soumyanetra Munshi, Assistant Professor - Indian Statistical Institute, Kolkata
news
Bill Maurer, anthropologist, via the Omaha World Herald, March 13, 2017
Sociologists Rachel Goldberg and David Snow via the Orange County Register, March 8, 2017